my life
please read: oprah by kitty kelley
anyone who has been around me while i have had this book in my hand has heard nothing but fascination, intrigue and admiration for the larger-than-life person discussed in this book.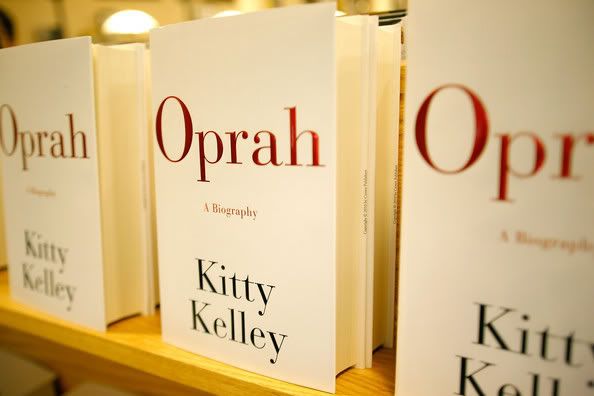 i know blogging about this may never get me on the oprah show lol but i honestly don't see what the big deal is about the publishing of this book. it takes a person with common sense not to take a biography too seriously anyway since it hardly comes directly from the source themselves.
however, what i did take away from reading about oprah's life was a person who was in control from the VERY beginning. a person who knew EXACTLY what she wanted out of life from the time she was a teenager and always kept her eyes on the bigger picture. she surrounded herself with smart people who were extremely loyal to her and worked hard to see her get ahead.
what i find most alluring is the reoccurring trend of aggravated people who she met on the way up who bitch and complain that they don't hear from her anymore. so whaaaaat? oprah knew who she wanted to keep in her circle and she kept that circle small and close and i admire that.
dear oprah, i get it. i understand why you are so protective of your brand and the people you've hired to build it. i understand why money changed everything for you and i understand why you used your show to bring awareness to the things that affected your life before the show.
kitty kelley may have tried to paint a different picture of oprah in this book, but i saw a woman who defeated ALL THE ODDS and has become one of the richest people in the world and has made such a significant impact on popular culture than anyone else in our lifetime. all her 'faults' do not take away from the countless charities she has donated millions of dollars to and the different ways she has changed and shaped the worlds way of thinking.
i recommend this book to any woman aspiring to be the dominating force of anything in their field – whether it be entertainment, law, fashion, medical, beauty, fitness, etc. because we can all relate to Oprah in some way – whether it in our past personal life or in our current professional life.
this book may have touched on oprahs most 'crushing' moments in her career, but without discussing how she has managed to overcome harsh criticisms and opinions and get past difficult accusations and trials that could quite possibly end anyone's career, would be a disservice to those who have read this biography.
~lissa
~lissa
DJ Lissa Monét
June 24th, 2010